ECB Deep Freeze on 500-Euro Note Risks German Cold Shoulder
When European Central Bank policy makers discuss the fate of the 500-euro note this week, they may want to consider the case of Fabio Rizzi.
After the local politician in the Italian region of Lombardy was arrested on corruption charges in February, police found more than 17,000 euros ($19,500) including 500- and 200-euro bank notes stashed in his home, according to the arrest warrant. Some of the cash had been hidden in Rizzi's freezer, press reports confirmed by his lawyer Monica Alberti said.
While holding large amounts of cash is itself not a crime and Rizzi has not yet been convicted of one, the case strengthens the image already present in policy circles that large-denomination notes are used only by those up to no good. The European Central Bank may decide as soon as Wednesday to start phasing the 500 out, even though it faces suspicion in German-speaking countries that by doing so officials are trying to abolish cash altogether.
"The whole debate has a certain taste to it. The argument that it is used in the shadow economy won't cut it, as you can easily find substitutes," said Stefan Schneider, chief international economist at Deutsche Bank AG in Frankfurt. "And in Germany, at a time when trust in the ECB is at record lows, it will certainly be seen as a further step in the direction of the removal of cash."
Reasons for the unease over changes to the composition of cash in Germany, Austria and Luxembourg range from a simple preference for an anonymous payment method to the fear that if cash is abolished altogether, central bankers can drive interest rates on bank deposits further below zero. Without adequate denominations of physical money, it's more difficult for the public to withdraw their savings in defense.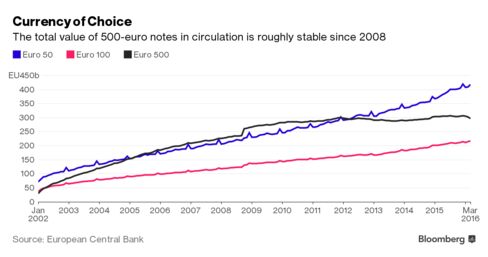 Bin Laden
That said, most Europeans would hardly notice if the bank note were to disappear. The 500 euro is rarely used in daily transactions; in Spain it has even been nicknamed "Bin Laden" for its elusiveness. Europol's director has called it the "currency of choice" for criminal and terrorist networks.
Bank tellers raise suspicious eyebrows when presented with one, as the transcript of a phone conversation contained in Rizzi's arrest warrant testifies.
Cashing in 500-euro notes "is a mess," an acquaintance complains to Rizzi according to the document. Bank clerks "complain about 200-euro notes. What do you do with the 500 euro big bills you have upstairs?"
Bank of Italy data show that 500-euro notes circulate in the country's economy only infrequently. In 2015, almost 7.5 billion euros-worth of them were returned to the central bank by lenders, companies or individuals, while only 65 million euros were issued.
Social Consequences
The controversy over the Rizzi case "is just the umpteenth example of the risks attached to large notes," according to Giuseppe Ascoli, partner at Rome-based tax advisory firm CMS. The 500-euro notes "are often used to finance terrorism, illegal activity and money laundering. This has also social consequences," he said.
Rizzi's lawyer Alberti declined to comment further on the case on behalf of her client.
ECB Executive Board member Benoit Coeure said in February that the central bank is "actively considering" whether to phase out the 500-euro bill, even as other officials look for stronger evidence from authorities that it actually abets crime. At the same time, officials are also considering the costs of such a move.
The current thinking at ECB headquarters in Frankfurt is that the easiest way to phase out the 500 would be to simply stop producing it, and let wear and tear do the rest, according to officials familiar with the matter.
Psychological Debate
This would also imply omitting the 500 from the new line of euro banknotes that is gradually being introduced by the ECB, one of the officials added, speaking under condition of anonymity as the debate isn't public. An ECB spokesman confirmed that the matter is on the agenda for discussion at the May 4 non-monetary policy meeting.
The problem with this option is that it would require stepping up production for 50, 100, and 200 euro notes in relatively a short time, the person said, while banknote production schedules are usually set years in advance. By value, about 300 billion euros of the 1.1 trillion euros in cash currently in circulation is made up of 500-euro banknotes.
The total cost, including transportation, could be as high as 500 million to 600 million euros, Austrian central bank official Kurt Pribil said on Thursday.
Even so, the officials anticipate that there will be consensus among Governing Council members to abolish the 500-euro note, the people said, as the moral case for it trumps logistical and economical considerations.
For example, Bank of France Governor Francois Villeroy de Galhau is in favor of scrapping the note, according to a report in Les Echos published Monday.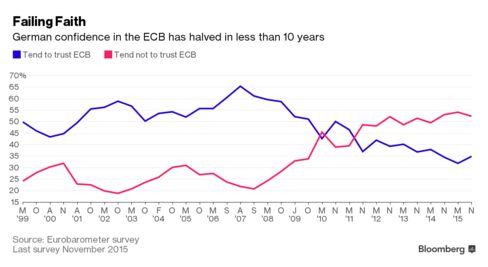 At a time when only one in three Germans say they have trust in the ECB and its policies have come under direct attack from politicians, President Mario Draghi may need to communicate carefully the reasoning behind such a decision, or risk opening a new front with the public of the euro area's largest economy. Clemens Fuest, head of Germany's influential Ifo Institute, said in an interview on Bloomberg TV on Monday that there's "no justification" for removing the 500 note.
"We risk running into a general debate about abolishing cash -- that debate isn't justified, but it's there," European Central Bank Governing Council member Ewald Nowotny said on Thursday. "I have learnt that central-bank policy must be 50 percent psychology. I believe that for those psychological reasons we should be very careful, and my personal view is that we shouldn't aim for phasing out the 500-euro bill."
http://www.bloomberg.com/news/articles/2016-05-02/ecb-deep-freeze-on-500-euro-note-risks-cold-shoulder-for-germans