Rolex, Rayban, Nike and Louis Vuitton among brands hit by counterfeit trade worth £270bn a year
The counterfeit trade is booming with nearly half a trillion dollars in fake good sold each year, according to a new report.
The value of imported fake goods worldwide stood at $462 billion (£270 billion) in 2013 – the equivalent of the global economic output of Austria or the combined GDP of Ireland and the Czech Republic.
Rolex, Rayban, Nike and Louis Vuitton are among the brands "the most intensely targeted by counterfeiters", the report shows. TheIndependent has contacted Rolex, Rayban and Louis Vuitton for comment.
"Nike aggressively protects its brand and actively engages with law enforcement agencies and customs globally to stop counterfeit product reaching consumers," a spokesperson for Nike said.
Footwear and clothes are the most likely to be fake, though trademarks are infringed even on strawberries and bananas.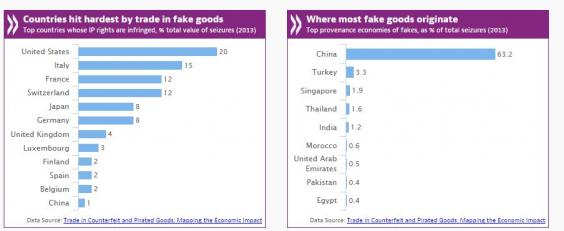 Counterfeiting also produces copies that endanger lives from auto parts that fail, toys that harm children to medical instruments that deliver false readings, the report warned.
Fake goods now make up 2.5 per cent of all international trade, according to the research, which was conducted by the Organisation for Economic Cooperation and Development (OECD) and the European Observatory on Infringements of Intellectual Property Rights. They based their analysis on half a million customs seizures around the world from 2011 to 2013.
The situation has worsened since 2008, when a similar study estimated that up to 1.9 per cent of global imports were fakes.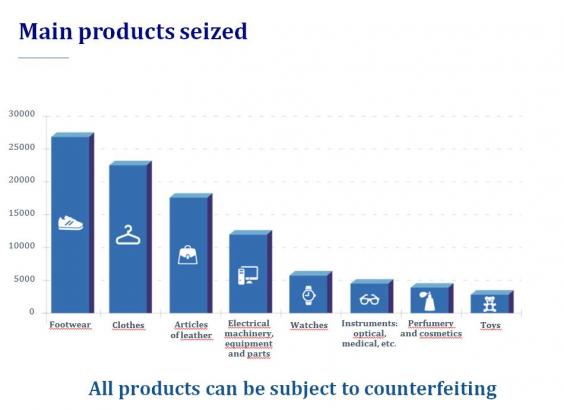 Brands from the US topped the list as the hardest hit by the counterfeit goods market with 20 per cent of all counterfeit seizures masquerading as US products.
Italian companies were victims of 15 per cent of infringement, followed by France and Switzerland at 12 per cent. The United Kingdom came seventh with 4 per cent of British brands being the victims of the counterfeit industry while as much as five per cent of goods imported in the European Union are fakes overall.
Nike was previously identified as the most counterfeited brand in 2014 in a report by the World Customs Organisation.
"Today's report is a wake-up call for everyone. The figures are almost too large to comprehend," said Antonio Campinos, president of the European Union Intellectual Property Office, in a press conference to discuss the findings.
Most fakes originate from emerging or middle income countries with China as the top producer accounting for an impressive 63.2 per cent of customs seizures between 2011 and 2013. Turkey, which contributed to 3 per cent of all counterfeit and pirated seizures, came second.
Doug Frantz, the OECD Deputy Secretary General, said counterfeiters don't only hurt big companies and luxury goods manufacturers but take advantage of customer's trust.
The brand from these countries are hit the hardest by trade in fake goods (% total value of seizures)
1. United States - 20 %
2. Italy - 15%
3. France -12%
4. Switzerland - 12%
5. Japan - 8%
6. Germany - 8%
7. United Kingdom - 4%
8. Spain - 2%
9. Belgium 2%
10. China 1%
http://www.independent.co.uk/news/business/news/rolex-rayban-nike-and-louis-vuitton-among-brands-hit-by-counterfeit-trade-worth-270bn-a-year-a6991191.html