IEA Sees Risk of World Drowning in Oil
Global oil markets could "drown in oversupply," sending prices even lower as demand growth slows and Iran revives exports with the end of sanctions, according to the International Energy Agency.
The IEA trimmed 2016 estimates for global oil demand as China's economic expansion weakens and raised forecasts for supplies outside the Organization of Petroleum Exporting Countries. While non-OPEC supply is set to drop 600,000 barrels a day in 2016, Iran's comeback could fill that gap by the middle of the year. As a result, world markets may be left with a surplus of 1.5 million barrels a day in the first half.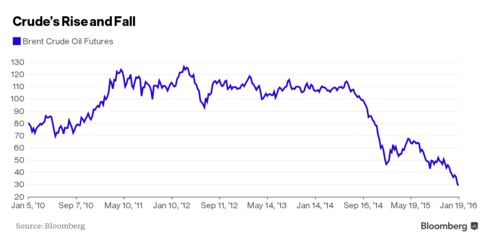 "While the pace of stock-building eases in the second half of the year as supply from non-OPEC producers falls, unless something changes, the oil market could drown in oversupply," said the Paris-based adviser to industrialized economies. Prices "could go lower."
Oil sank to a 12-year low of less than $28 a barrel in London on Monday as the removal of international sanctions over the weekend freed Iran to revive crude exports, threatening to swell a glut created by fellow OPEC members and U.S. shale drillers. Saudi Arabia, the biggest oil exporter, signaled again on Sunday it won't relent in its strategy to preserve market share even as prices crash.
Iran Growth
Iran could be the only source of supply growth in OPEC this year as a surge in Iraq fizzles out, the IEA said. International sanctions, including those on its oil sector, were lifted on Jan. 16 as Iran met the terms of an agreement to curb its nuclear development program.
The Persian Gulf exporter could add 300,000 barrels a day by the end of the first quarter and 600,000 barrels a day by the middle of the year, the IEA said. While that's below official ministry plans to add 1 million a day by mid-year, it could still be enough to pressure prices further, the agency predicted. The country pumped at a 3 1/2-year high of 2.91 million barrels a day in December, according to the report.
Global oil demand growth slipped to a one-year low in the fourth quarter, from close to a five-year high in the third, amid mild winter temperatures and economic weakness in commodity producers. Consumption growth will slow this year to 1.2 million barrels a day, or 1.3 percent, from 1.7 million a day in 2015, according to the report, averaging 95.7 million barrels a day.
OPEC Supply
While supplies outside OPEC proved "resilient" for most of last year, they shrank on an annual basis in December for the first time in three years, according to the IEA. The projected drop of 600,000 barrels a day in non-OPEC production this year will be the steepest since 1992.
Production from OPEC, whose membership expanded last month with the return of Indonesia, slipped 90,000 barrels a day to 32.28 million a day in December amid slightly lower output from Saudi Arabia and Iraq, according to the report. That's still about 600,000 a day more than the average of 31.7 million required in 2016.
With OPEC supply potentially expanding and demand growth slowing, global inventories could accumulate by a further 285 million in 2016 after swelling by 1 billion barrels last year, the IEA said. As the availability of storage on-land becomes tighter, that could make it profitable to stockpile excess crude on tankers at sea, the agency said.
http://www.bloomberg.com/news/articles/2016-01-19/iea-says-oil-rout-could-deepen-as-market-drowns-in-oversupply