The Real Reason Behind the Qatar Crisis Is Natural Gas
Revised, edited by Bachir El Nakib, Senior Consultant, Compliance Alert (LLC)
Shortly after imposing a naval blockade in the immediate aftermath of the Qatar diplomatic crisis, one which left the small Gulf nation not only politically isolated and with severed ties to its neighbors but potentially locked out of maritime trade and crippling its oil and LNG exports, on Tuesday SkyNews Arabia reported that Saudi Arabia has given Qatar a 24 hours ultimatum, starting tonight, to fulfill 10 conditions that have been conveyed to Kuwait, which is currently involved in the role of a mediator between Saudi and Qatar.
The sources add that the Qatari military has brought up 16 Leopard tanks out of storage in Doha in preparation for a potential military incursion by surrounding Gulf states. Furthermore, the Qatari Ministry of Defense reportedly also sent a letter to Saudi, UAE and Bahraini governments, saying they would fire on any naval ships from those countries that enter into its waters, a US official said. US officials have said the situation in Qatar has not affected US military operations and security in Qatar.
The escalation comes at the same time as president Donald Trump allegedly changed course on Qatar, a day after praising a move by other Gulf nations to sever diplomatic relations with Doha, which hosts a US military base crucial to the fight against ISIS. CNN reports that in a phone call with the Qatari Emir, Trump "extended an olive branch," offering to help the parties resolve their differences by inviting them to a White House meeting if necessary.
In a description of the Wednesday call, the White House said Trump "emphasized the importance of all countries in the region working together to prevent the financing of terrorist organizations and stop the promotion of extremist ideology."
According to the official narrative, the reason for the latest Gulf crisis in which a coalition of Saudi-led states cut off diplomatic and economic ties with Qatar, is because - to everyone's "stunned amazement" - Qatar was funding terrorists, and after Trump's recent visit to Saudi Arabia in which he urged a crackdown on financial support of terrorism, and also following the FT's report that Qatar has directly provided $1 billion in funding to Iran and al-Qaeda spinoffs, Saudi Arabia finally had had enough of its "rogue" neighbor, which in recent years had made ideologically unacceptable overtures toward both Shia Iran and Russia.
However, as often happens, the official narrative is traditionally a convenient smokescreen from the real underlying tensions.
The real reason behind the diplomatic fallout may be far simpler, and once again has to do with a long-running and controversial topic, namely Qatar's regional natural gas dominance.
Recall that many have speculated (with evidence going back as far back as 2012) that one of the reasons for the long-running Syria proxy war was nothing more complex than competing gas pipelines, with Qatar eager to pass its own pipeline, connecting Europe to its vast natural gas deposits, however as that would put Gazprom's monopoly of European LNG supply in jeopardy, Russia had been firmly, and violently, against this strategy from the beginning and explains Putin's firm support of the Assad regime and the Kremlin's desire to prevent the replacement of the Syrian government with a puppet regime.
Now, in a separate analysis, Bloomberg also debunks the "official narrative" behind the Gulf crisis and suggests that Saudi Arabia's isolation of Qatar, "and the dispute's long past and likely lingering future are best explained by natural gas."
The reasons for nat gas as the source of discord are numerous and start in 1995 "when the tiny desert peninsula was about to make its first shipment of liquid natural gas from the world's largest reservoir. The offshore North Field, which provides virtually all of Qatar's gas, is shared with Iran, Saudi Arabia's hated rival."
The result to Qatar's finances was similar to the windfall that Saudi Arabia reaped from its vast crude oil wealth.
The wealth that followed turned Qatar into not just the world's richest nation, with an annual per-capita income of $130,000, but also the world's largest LNG exporter. The focus on gas set it apart from its oil producing neighbors in the Gulf Cooperation Council and allowed it to break from domination by Saudi Arabia, which in Monday's statement of complaint described Qataris as an "extension of their brethren in the Kingdom" as it cut off diplomatic relations and closed the border.
In short, over the past two decades, Qatar become the single biggest natural gas powerhouse in the region, with only Russia's Gazprom able to challenge Qatar's influence in LNG exports.
To be sure, Qatar has shown a remarkable ability to shift its ideological allegiance, with the FT reporting as recently as 2013, that initially Qatar was a staunch supporter, backer and financier of the Syrian rebels, tasked to topple the Assad regime, a process which could culminate with the creation of the much maligned trans-Syrian pipeline.
The tiny gas-rich state of Qatar has spent as much as $3bn over the past two years supporting the rebellion in Syria, far exceeding any other government, but is now being nudged aside by Saudi Arabia as the prime source of arms to rebels.

The cost of Qatar's intervention, its latest push to back an Arab revolt, amounts to a fraction of its international investment portfolio. But its financial support for the revolution that has turned into a vicious civil war dramatically overshadows western backing for the opposition.
As the years passed, Qatar grew to comprehend that Russia would not allow its pipeline to traverse Syria, and as a result it strategically pivoted in a pro-Russia direction, and as we showed yesterday, Qatar's sovereign wealth fund agreed last year to invest $2.7 billion in Russia's state-run Rosneft Oil, even as Qatar is host of the largest US military base in the region, US Central Command. This particular pivot may have also added to fears that Qatar was becoming a far more active supporter of a Russia-Iran-Syria axis in the region, its recent financial and ideological support of Iran notwithstanding.
As a result of the tiny nation's growing financial and political "independence", its neighbors grew increasingly frustrated and concerned: "Qatar used to be a kind of Saudi vassal state, but it used the autonomy that its gas wealth created to carve out an independent role for itself," said Jim Krane, energy research fellow at Rice University's Baker Institute, quoted by Bloomberg.
Furthermore, Qatar's natural gas output has been "free from entanglement" - and political pressure - in the OPEC, the oil cartel that Saudi Arabia dominates.
"The rest of the region has been looking for an opportunity to clip Qatar's wings."
And, as Bloomberg adds, "that opportunity came with U.S. President Donald Trump's recent visit to Saudi Arabia, when he called on "all nations of conscience" to isolate Iran. When Qatar disagreed publicly, in a statement the government later said was a product of hacking, the Saudi-led retribution followed."
To be sure, in a series of tweets, Trump himself doubled down on the "official narraitve", taking credit for Qatar's isolation (perhaps forgetting that a US base is housed in the small nation).
The cynics may be forgiven to assume that if Trump is tweeting that the reason for Qatar's isolation is "to end the horror of terrorism", even as the US just signed a $100+ billion arms deal with the single biggest supporter of terrorism in the world, Saudi Arabia, then indeed the Trump-endorsed "narrative" is to be dismissed outright.
Which again brings us back to nat gas, where Qatar rapidly emerged as the dominant, and lowest cost producer at a time when its neighbors started demanding the commodity on their own, giving the tiny state all the leverage. As Bloomberg adds "demand for natural gas to produce electricity and power industry has been growing in the Gulf states. They're having to resort to higher-cost LNG imports and exploring difficult domestic gas formations that are expensive to get out of the ground, according to the research. Qatar's gas has the lowest extraction costs in the world."
Of course, with financial wealth came the need to spread political infludence: "
Qatar gas wealth enabled it to develop foreign policies that came to irritate its neighbors. It backed the Muslim Brotherhood in Egypt, Hamas in the Gaza Strip and armed factions opposed by the UAE or Saudi Arabia in Libya and Syria. Gas also paid for a global television network, Al Jazeera, which at various times has embarrassed or angered most Middle Eastern governments.
And, above all, "gas prompted Qatar to promote a regional policy of engagement with Shiite Iran to secure the source of its wealth."
And here the source of tension emerged: because as Steven Wright, Ph.D. Associate Professor at Qatar University told Bloomberg, "you can question why Qatar has been unwilling to supply its neighboring countries, making them gas poor," said Wright, the academic, speaking by telephone from the Qatari capital Doha. "There probably was an expectation that Qatar would sell gas to them at a discount price."
It did not, and instead it took a step backward in 2005, when Qatar declared a moratorium on the further development of the North Field that could have provided more gas for local export, adding to the frustrations of its neighbors.
Qatar said it needed to test how the field was responding to its exploitation, denying that it was bending to sensitivities in Iran, which had been much slower to draw gas from its side of the shared field. That two-year moratorium was lifted in April, a decade late, after Iran for the first time caught up with Qatar's extraction rates.
As Qatar refused to yield, the resentment grew.
"People here are scratching their heads as to exactly what the Saudis expect Qatar to do," said Gerd Nonneman, professor of international relations and Gulf studies at Georgetown University's Doha campus. "They seem to want Qatar to cave in completely, but it won't call the Muslim Brotherhood a terrorist organization, because it isn't. And it isn't going to excommunicate Iran, because that would jeopardize a relationship that is just too fundamental to Qatar's economic development."
* * *
Whether nat gas is the source of the Qatari isolation will depend on the next steps by both Saudi Arabia and Iran. Saudi Arabia, along with the United Arab Emirates and Egypt - are all highly reliant on Qatari gas via pipeline and LNG.
According to Reuters, traders startled by the development, have begun to plan for all eventualities, especially any upsets to piped gas supplies from Qatar to the UAE. The UAE consumes 1.8 billion cubic feet/day of Qatari gas via the Dolphin pipeline, and has LNG purchase agreements with its neighbor, leaving it doubly exposed to tit-for-tat measures, industry sources and traders said.
So far flows through Dolphin are unaffected but traders say even a partial shutdown would ripple through global gas markets by forcing the UAE to seek replacement LNG supply just as its domestic demand peaks.
With LNG markets in bearish mood and demand weak, the UAE could cope with Qatar suspending its two to three monthly LNG deliveries by calling on international markets, but Dolphin piped flows are too large to fully replace.

"A drop off in Dolphin deliveries would have a huge impact on LNG markets," one trader monitoring developments said.
And since it all boils down to who has the most leverage as this latest regional "balance of power" crisis unfolds, Qatar could simply take the Mutual Assured Destruction route, and halt all pipeline shipments to its neighbors crippling both theirs, and its own, economy in the process, to find just where the point of "max pain" is located.
Roots of the Gas Crisis- Wars in the Middle East and North Africa was it really About Oil?
The Iraq war was really about oil, according to Alan Greenspan, John McCain, George W. Bush, Sarah Palin, a high-level National Security Council officer and others.
Dick Cheney made Iraqi's oil fields a national security priority before 9/11.
The Sunday Herald reported:
Five months before September 11, the US advocated using force against Iraq … to secure control of its oil.
The Afghanistan war was planned before 9/11 (see this and this). According to French intelligence officers, the U.S. wanted to run an oil pipeline through Afghanistan to transport Central Asian oil more easily and cheaply. And so the U.S. told the Taliban shortly before 9/11 that they would either get "a carpet of gold or a carpet of bombs", the former if they greenlighted the pipeline, the second if they didn't. See this, this and this.
Congressman Ed Markey said:
Well, we're in Libya because of oil.
Senator Graham agreed.
And the U.S. and UK overthrew the democratically-elected leader of Iran because he announced that he would nationalize the oil industry in that country.
It's a War for GAS
But it's about gas as much as oil …
As key war architect John Bolton said last year:
The critical oil and natural gas producing region that we fought so many wars to try and protect our economy from the adverse impact of losing that supply or having it available only at very high prices.
For example, the pipeline which the U.S. wanted to run through Afghanistan prior to 9/11 was to transport gas as much as oil.
John C.K. Daly notes:
The proposed $7.6 billion, 1,040 mile-long TAPI [Turkmenistan-Afghanistan-Pakistan-India … admittedly a mouthful, but you'll be hearing a lot about it in the coming months] natural gas pipeline has a long regional history, having first been proposed even before the Taliban captured Kabul, as in 1995 Turkmenistan and Pakistan initialed a memorandum of understanding. TAPI, with a carrying capacity of 33 billion cubic meters of Turkmen natural gas a year, was projected to run from Turkmenistan's Dauletabad gas field across Afghanistan and Pakistan and terminate at the northwestern Indian town of Fazilka.

TAPI would have required the assent of the Taliban, and two years after the MoU was signed the Central Asia Gas Pipeline Ltd. consortium, led by U.S. company Unocal, flew a Taliban delegation to Unocal headquarters in Houston, where the Taliban signed off on the project.
The Taliban visit to the U.S. has been confirmed by the mainstream media. Indeed, here is a picture of the Taliban delegation visiting Unocal's Houston headquarters in 2007:
U.S. companies such as Unocal (lead on the proposed pipeline) and Enron (and see this), with full U.S. government support, continued to woo the Taliban right up until 2001 in an attempt to sweet-talk them into green-lighting the pipeline.
For example, two French authors with extensive experience in intelligence analysis (one of them a former French secret service agent) – claim:
Until August [2001], the US government saw the Taliban regime "as a source of stability in Central Asia that would enable the construction of an oil pipeline across Central Asia" from the rich oilfields in Turkmenistan, Uzbekistan, and Kazakhstan, through Afghanistan and Pakistan, to the Indian Ocean. Until now, says the book, "the oil and gas reserves of Central Asia have been controlled by Russia. The Bush government wanted to change all that."
Pepe Escobar notes:
Under newly elected president George W Bush… Unocal snuck back into the game and, as early as January 2001, was cozying up to the Taliban yet again, this time supported by a star-studded governmental cast of characters, including undersecretary of state Richard Armitage, himself a former Unocal lobbyist.

***

Negotiations eventually broke down because of those pesky transit fees the Taliban demanded. Beware the Empire's fury. At a Group of Eight summit meeting in Genoa in July 2001, Western diplomats indicated that the Bush administration had decided to take the Taliban down before year's end. (Pakistani diplomats in Islamabad would later confirm this to me.) The attacks of September 11, 2001 just slightly accelerated the schedule.
Soon after the start of the Afghan war, Karzai became president (while Le Monde reported that Karzai was a Unocal consultant, it is possible that it was a mix-up with the Unocal consultant and neocon who got Karzai elected, Zalmay Khalilzad). In any event, a mere year later, a U.S.-friendly Afghani regime signed onto TAPI.
India just formally signed on to Tapi. This ended the long-proposed competitor: an Iran-Pakistan-India (IPI) pipeline.
Competing Pipe Dreams
Virtually all of the current global geopolitical tension is based upon whose vision of the "New Silk Road" will control.
But before we can understand the competing visions, we have to actually see the maps: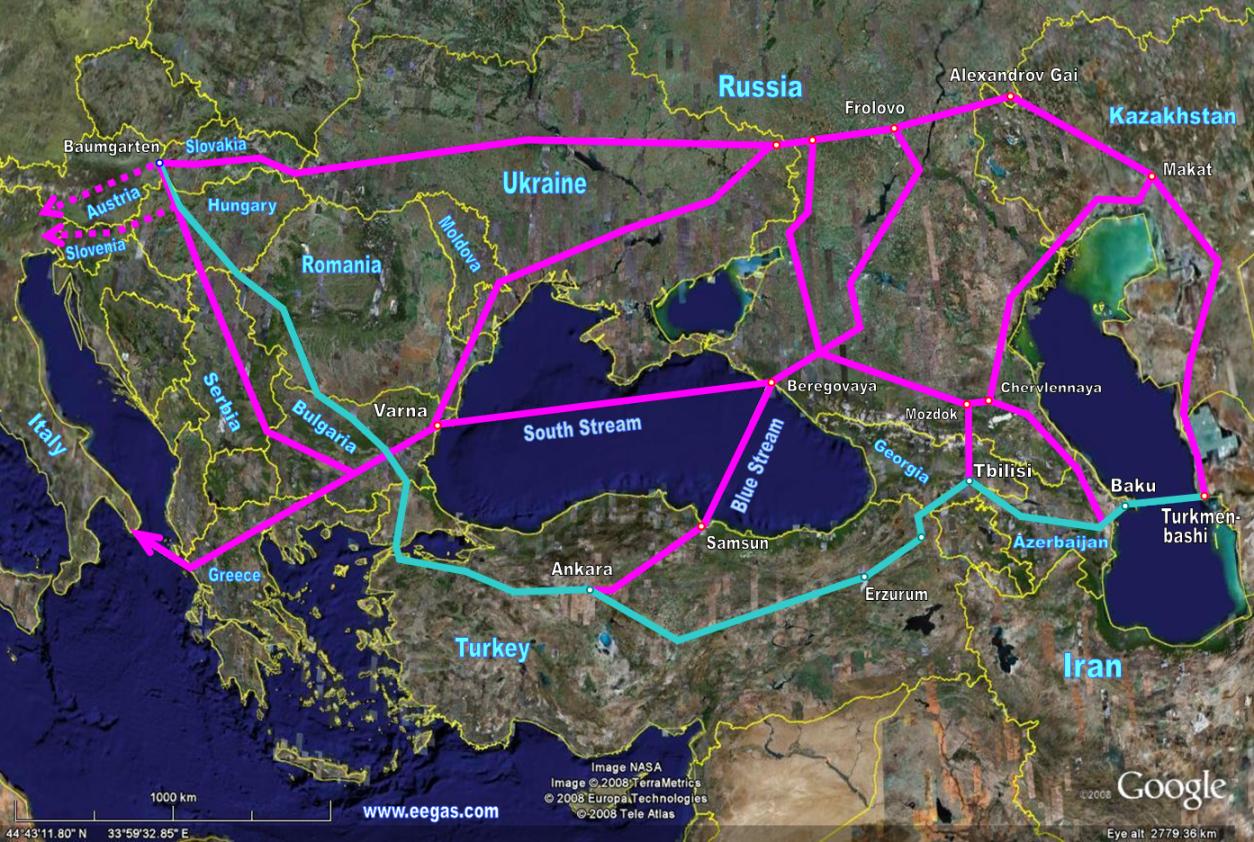 And here are the competing pipelines backed by the U.S. and by Iran, before India sided with the U.S.:
With maps in hand, we can now discuss the great geopolitical battle raging between the U.S. and its allies, on the one hand, and Russia, China and Iran, on the other hand.
Iran and Pakistan are still discussing a pipeline without India, and Russia backs the proposal as well.
Indeed, the "Great Game" being played right now by the world powers largely boils down to the United States and Russia fighting for control over Eurasian oil and gas resources:
Russia and the USA have been in a state of competition in this region, ever since the former Soviet Union split up, and Russia is adamant on keeping the Americans out of its Central Asian backyard. Russia aims to increase European gas dominance on its resources whereas the US wants the European Union (EU) to diversify its energy supply, primarily away from Russian dominance. There are already around three major Russian pipelines that are supplying energy to Europe and Russia has planned two new pipelines.
The rising power China is also getting into this Great Game:
The third "big player" in this New Great Game is China, soon to be the world's biggest energy consumer, which is already importing gas from Turkmenistan via Kazakhstan and Uzbekistan to its Xinjiang province — known as the Central Asia-China Pipeline — which may tilt the balance towards Asia. Pepe Escobar calls it the opening of the 21st century Silk Road in 2009 when this pipeline became operational. China's need for energy is projected to increase by 150 per cent which explains why it has signed probably the largest number of deals not just with the Central Asian republics but also with the heavily sanctioned Iran and even Afghanistan. China has planned around five west-east gas pipelines, within China, of which one is operational (domestically from Xinjiang to Shanghai) and others are under construction and will be connected to Central Asian gas reserves.
China is also pushing for an alternative to TAPI: an Turkmenistan-Afghan-China pipeline.
Iran is also a player in its own right:
Another important country is Iran. Iran sits on the second largest gas reserves in the world and has over 93 billion barrels of proven oil reserves with a total of 4.17 million barrels per day in 2009. To the dislike of the United States, Iran is a very active player. The Turkmenistan-Iran gas pipeline, constructed in 1997, was the first new pipeline going out from Central Asia. Furthermore, Iran signed a $120 billion gas exploration deal, often termed the "deal of the century" with China. This gas deal signed in 2004 entails the annual export of approximately 10 million tons of Iranian liquefied natural gas (LNG) to China for 25 years. It also gives China's state oil company the right to participate in such projects as exploration and drilling for petrochemical and gas industries in Iran. Iran also plans to sell its gas to Europe through its Persian Gas pipeline which can become a rival to the US Nabucco pipeline. More importantly, it is also the key party in the proposed Iran-Pakistan (IP) pipeline, also formerly known as the "peace pipeline." Under this pipeline plan, first proposed in 1995, Iran will sell gas from its mega South Pars fields to Pakistan and India.
China's support for Iran is largely explained by oil and gas:
Referring to China, Escobar states "most important of all, 'isolated' Iran happens to be a supreme matter of national security for China, which has already rejected the latest Washington sanctions without a blink" and that "China may be the true winner from Washington's new sanctions, because it is likely to get its oil and gas at a lower price, as the Iranians grow ever more dependent on the China market."

China has also shown interest in the construction of IP on the Pakistani side and further expanding it to China. This means that starting at Gwadar, Beijing plans to build another pipeline, crossing Balochistan and then following the Karakoram Highway northwards all the way to Xinjiang, China's Far West. China is also most likely to get the construction contract for this pipeline. As stated above, Chinese firms are part of the consortium awarded the contract for the financial consultancy for the project. Closer participation in the Asian energy projects would also help China increase its influence in the region for its objective of creating the "string of pearls" across the region — which has often scared India as an encirclement strategy by the Chinese government.
Why Syria?
You might ask why there is so much focus on Syria right now.
Well, Syria is an integral part of the proposed 1,200km Arab Gas Pipeline:
Here are some additional graphics courtesy of Adam Curry: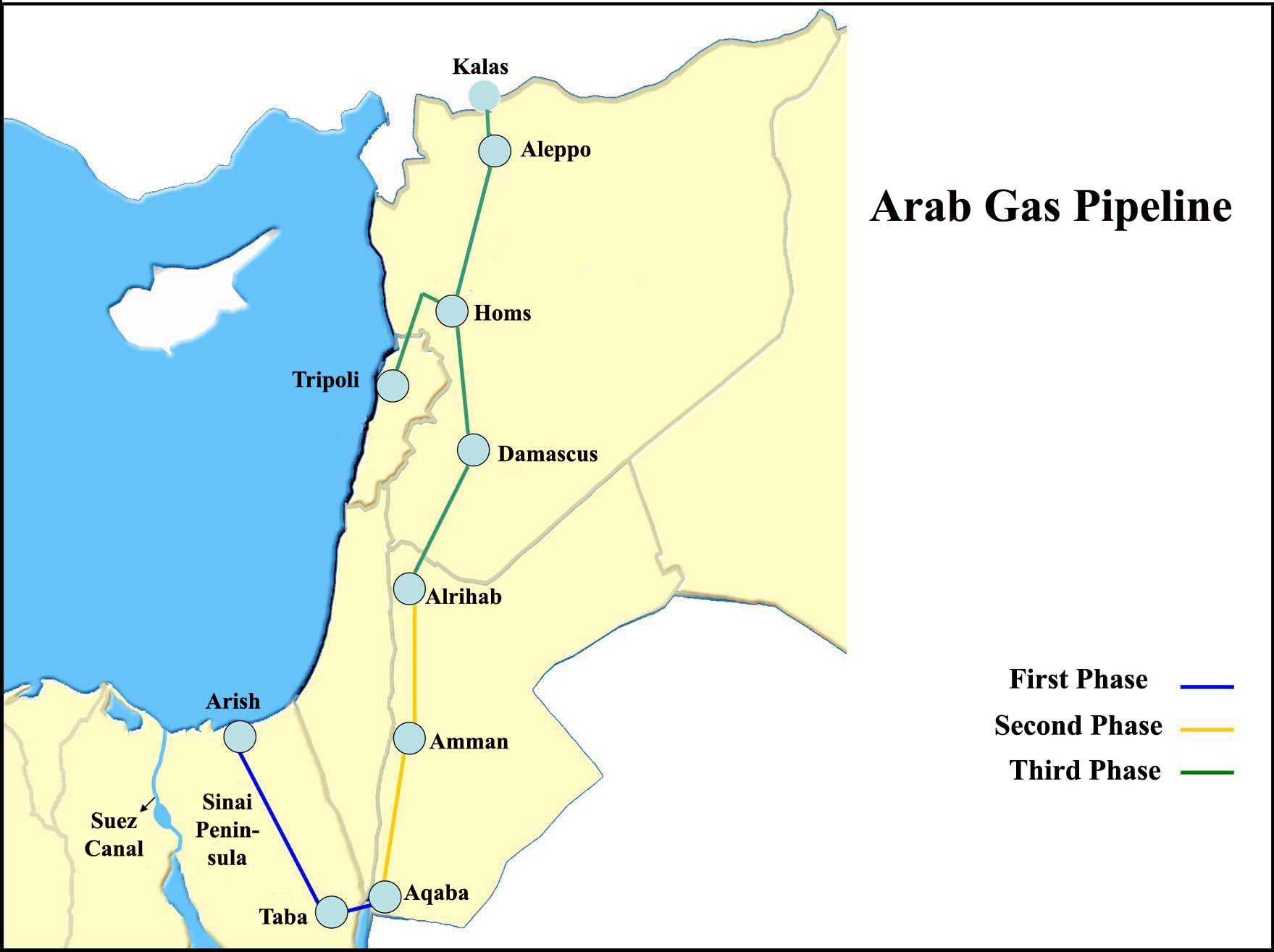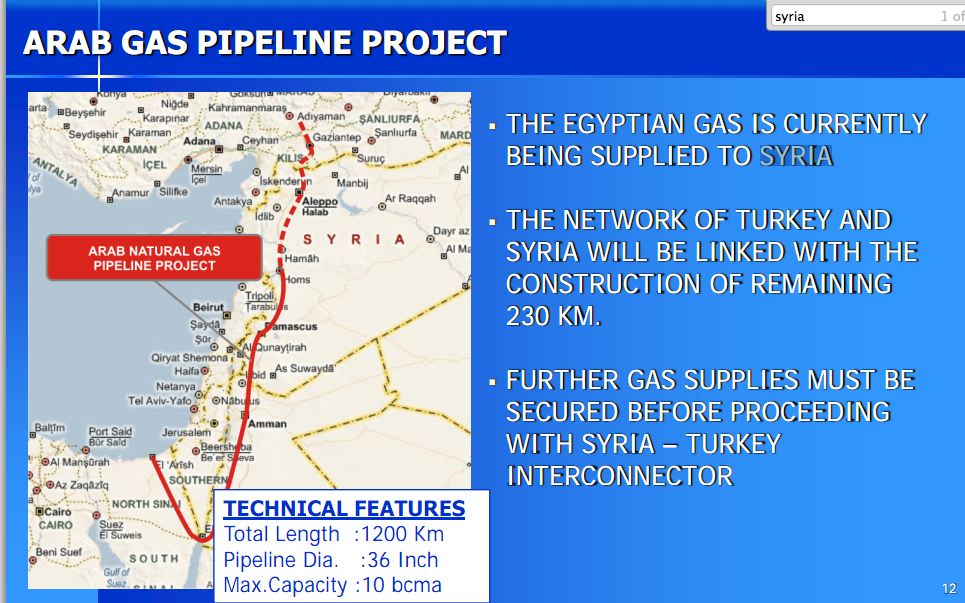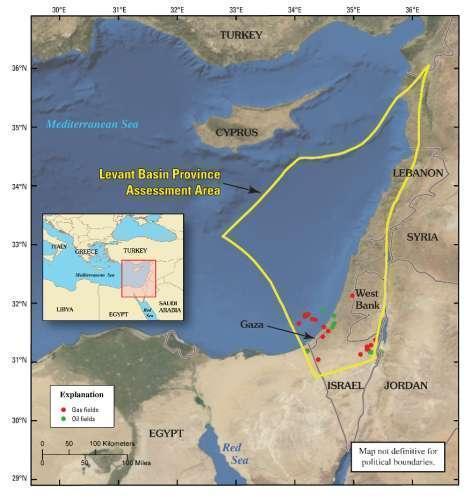 So yes, regime change was planned against Syria (as well as Iraq, Libya, Lebanon, Somalia, Sudan and Iran) 20 years ago.
And yes, attacking Syria weakens its close allies Iran and Russia … and indirectly China.
But Syria's central role in the Arab gas pipeline is also a key to why it is now being targeted.
Just as the Taliban was scheduled for removal after they demanded too much in return for the Unocal pipeline, Syria's Assad is being targeted because he is not a reliable "player".
Specifically, Turkey, Israel and their ally the U.S. want an assured flow of gas through Syria, and don't want a Syrian regime which is not unquestionably loyal to those 3 countries to stand in the way of the pipeline … or which demands too big a cut of the profits.
Pepe Escobar sums up what is driving current global geopolitics and war:
What you're really talking about is what's happening on the immense energy battlefield that extends from Iran to the Pacific Ocean. It's there that the liquid war for the control of Eurasia takes place.

Yep, it all comes down to black gold and "blue gold" (natural gas), hydrocarbon wealth beyond compare, and so it's time to trek back to that ever-flowing wonderland – Pipelineistan.
Postscript: It's not just the Neocons who have planned this strategy. Jimmy Carter's National Security Adviser helped to map out the battle plan for Eurasian petroleum resources over a decade ago, and Obama is clearly continuing the same agenda.
Some would say that the wars are also be about forcing the world into dollars and private central banking, but that's a separate story.
*http://www.zerohedge.com/news/2017-06-06/forget-terrorism-real-reason-behind-qatar-crisis-natural-gas