Waste Crime is 'The New Narcotics', says British Environment Agency chief
Sir James Bevan, head of the UK agency, says waste crime offers huge profits while costing England £1bn a year
Waste crime is the "new narcotics" according to the head of the Environment Agency (EA), offering huge profits as the authorities race to catch up with the damage caused to society.
Illegal waste activity costs England £1bn a year and more than 1,000 illegal waste sites were discovered last year, more than in the previous two years combined, with 662 still active as of the end of March.
The offences, sometimes involving organised crime gangs, ranged from illegal dumping of household and industrial waste to massive frauds involving recycling fees and landfill tax. However, action by the EA led to almost 1,000 illegal sites being shut down last year, with fines and prosecutions doubling.
"Waste is the new narcotics," said Sir James Bevan, chief executive of theEnvironment Agency. "It feels to me like drugs felt in the 1980s: the system hadn't quite woken up to the enormity of what was going on and was racing to catch up."
Bevan told the Guardian that waste crime can have a serious impact on communities: "When you have an illegal waste site, it will look horrible, it will smell, be noisy and there are constantly fires.
"With drugs it took a while for the system to catch up and realise the damage drugs were doing. We are clear now about the damage waste crime does to communities and to the economy," he said. "The strategy is to work with the good guys and really nail the bad guys. "We are both finding more [illegal sites] and nailing more. As the statistics show we haven't cracked it yet and it will be a long grind, but we are making progress."
In July, a Leeds waste criminal was given a record prison sentence for any environmental crime, a seven-and-a-half year term. Terence Dugbo had defrauded the electrical waste recycling industry out of £2.2m in a scam involving almost 20,000 tonnes of waste. He was caught when seized documents revealed waste had supposedly been collected from non-existent streets and, in one incident, a moped was recorded as carrying 991 televisions and 413 fridges in a single trip.
In August, a Sussex man was jailed after illegally stockpiling more than 1,200 tonnes of waste, having been arrested at Heathrow trying to board a plane to Dubai. In September a notorious Hampshire waste criminal was sent to prison for a string of offences including large-scale flytipping. Large fines have been imposed too, with a London waste company fined £1m in April in a case involving 14,500 tonnes of hazardous waste, including asbestos.
"It attracts criminals because you can make a lot of money," said Bevan. "The business model is very simple: you lease or find a bit of land, you then go and offer to remove skip loads of waste for a customer, which you dump on the land. All your money is made up front, in cash, and then you disappear."
In May 2015, a Burton upon Trent man was jailed for seven months after using the land owned by a vulnerable local couple to dump and burn large quantities of waste, leaving the site in a state of complete ruin.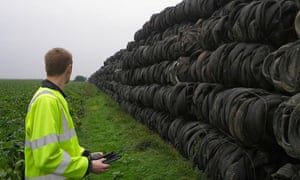 However, Bevan said it was also important to work with waste companies that wanted to improve their operations: "Waste companies get a bad rap, but we should recognise that most waste companies are responsible, law-abiding, conscientious and good for our communities. They take our waste away and turn it into something better and if we didn't have them, we'd be in a bad place."
Bevan spoke to the Guardian on a visit to Orion Support Services, a company in east London that handles 50,000 tonnes of construction waste from the city each year. Its permit was suspended in 2015 after serious dust problems.
However, the company has now built a £2.4m enclosed facility for sorting the waste, with a system that collects and bags 50 litres of dust an hour. "It was either that or shut up shop and go home," said John Stride, managing director of Orion Services. "But the turnaround has been amazing and it will pay back."
Just a small percentage of the waste sorted by Orion goes to landfill, with most being recycled or burned for energy. "It just feels better now, when you are reusing it," Stride said, adding that a neighbour who had raised a 1,000-strong petition against Orion's operations was now "very friendly".
Overall, England is much dealing better with waste than in the past, said Bevan. Rubbish sent to landfill has halved since 2000 and household recycling reached a new high in 2015 of 45%. However, the rising recycling rate has flattened out in recent years, and the proportion sent to landfill increased slightly in 2015.
"England is getting a better place to live - greener, cleaner and more prosperous," said Bevan. "There is more to do, absolutely, but the glass is half full."
"It is in part an example of regulation working," said Bevan, a former high commissioner to India. "I have seen an example of what happens if you don't regulate - the Bhopal disaster. If you think regulation is bad, try not doing it."
Source: The Guardian - https://www.theguardian.com/environment/2016/sep/22/ea-chief-waste-is-the-new-narcotics